Remo Repair Zip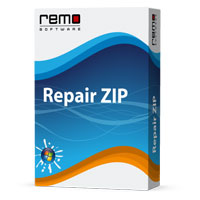 Repair corrupt or damaged Zip and Zipx files

Remo Repair Zip
is a handy and reliable utility designed to enable you to recover corrupt ZIP archives.
Easy to use software provides wizard based interface to repair corrupt or damaged Zip files.
A Zip file contains one or more files that has been compressed or
archived to reduce the overall file size. It is a data compression and
archive format, and supported by all major operating systems including
Windows, which has in-built support for Zip files.
Zip file is widely used to compress files, to send data over internet
or to backup data. However, due to its architecture it is highly prone
to corruptions. Corruption or any sort of damage can leave crucial data
inside a Zip file inaccessible.
There can be several causes, which can leave a Zip file in corrupt or
damaged state. The below mentioned list highlights few common causes for
Zip file corruption.
• When download a big sized Zip file from Internet or transferring it
from local network, the file may get broken due to any interruption.
This may lead to CRC errors or corruption and when trying to open the
Zip file, we may get errors like these
◦ Cannot open file: does not appear to be a valid archive

◦ The archive is corrupt or damaged

◦ Bad CRC

◦ Unknown compression method

◦ Compressed (zipped) folder is invalid or corrupted
• If Zip files are deleted and when recovered using a data recovery
software the recovered file can be incomplete due to fragmentation with
file system. Such files again would not open and will be in corrupt
state
Remo Repair Zip helps in repairing corrupt Zip file structure and
allows you to extract the contents from the corrupt Zip file. The
software provides completely automated wizard based interface to repair
corrupt Zip files.Here are some key features of "Remo Repair Zip":
· Repairs all types of Zip (32 -bit, 64-bit) and Zipx files
· Repairs corrupt Zip files with CRC errors
· Repairs large Zip files (4GB or more in size)
· Repairs Zip files stored on any storage media
· Once repair process is over, you can preview the lost data that can be recovered from the damaged / corrupt zip file
· Recovered file contents can be saved to any destination location accessible to the host operating system
How to Repair Zip file using Remo Repair Zip?
The overall repair process is fairly simple
• Download and install Remo Repair Zip trial
• Browse and select your Zip or Zipx file using browse and button and select the button "
Repair
" to begin repair process.
• The software will start scanning the zip file and will read all its
internal structure to reconstruct valid zip file parameters to
regenerate the compressed archive and eventually you will get a list of
files / folders from the compressed archive
• If the corrupt zip file had some files in the root, then double click
#Lost Files
folder to open and view those files. The folder will open and you can browse complete list of recoverable files
• To save the lost data from your corrupt zip file, now press "
Next
", a window will open where you can specify destination location save lost data
• Click the "
Select Folder
" button to choose the destination
path, which could be your local drive, externally attached USB drive, or
a mapped network location. Select the location and click the "Save"
button to save all your lost data.
Requirements:
· Minimum 1GB RAM (Recommended 2 GB RAM)
· 50MB free disk space for installation
DOWNLOAD | Remo Repair Zip v1.0
Repair corrupt or damaged Zip and Zipx files!