SuperCleaner
Clear Internet History & Computer Cleaner

SuperCleaner is an all in one disk cleaner
for your computer. It features a variety of cleaning methods, in order
to gain back your valuable hard disk space.

SuperCleaner is a software program designed to help you clean your hdd.

Its garbage file scanner is able to locate up to hundreds or even
thousands of megabytes of unneeded files which are simply taking up
space on your computer.

The Internet Privacy feature of SuperCleaner will let you erase your web
browser's cache (temporary Internet files), history, and cookies.

If there are cookies that you wish to keep, the easy to use Cookie Manager lets you specify which cookies not to delete.

Another popular feature of the program is the Start menu cleaner.
This feature finds all of the links in your Start menu which are dead
(pointing to files that no longer exist), and gives you the option of
removing them. SuperCleaner is very versatile, yet easy for even
beginners to use.Here are some key features of "SuperCleaner":· Safe to use
SuperCleaner performs several safety checks to ensure that your important files (Word, Notepad, etc.) aren't harmed
· Protect your Internet privacy
Erase temporary internet files, history files, cookies, and index.dat
files! Supports the following browsers: Firefox, Internet Explorer, AOL,
Opera, Mozilla, Netscape Navigator
· Guard yourself from undelete programs
Use the file wipe option to make it impossible for your files to be recovered by someone using undelete software!
· Keep your hard drives clean
Scan your entire computer for unneeded and obsolete files, and make your Windows run faster and smoother!
· Clean your Internet Favorites menu
Find and remove websites from your Favorites list that are no longer working
· Keep your Start menu clean
Find and remove dead links from your Start menu
· Automatic cleaning
SuperCleaner can automatically perform many cleaning functions when your
computer starts up, such as: erasing your Internet browsing history;
emptying the Windows temporary directory; emptying the Recycle Bin; and
much more!
What's New
in This Release:


· Fixed issue with Internet Explorer 7 and saved cookies
· Added option to not scan Application Data folder
· Fixed conflict with poorly written HP Scanner software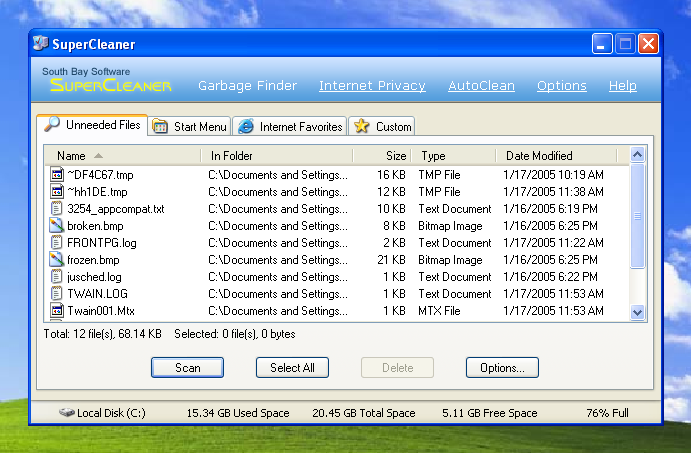 DOWNLOAD | SuperCleaner v2.96
Clear Internet History & Computer Cleaner!